Global statistics plus Covid-19 updates
The following website gives the running totals for many everyday categories and the numbers are almost, if not, overwhelming when seen on a global scale.
Click on the image below to link to a website that collects data from sources all over the globe and simply counts the numbers.  Global births and deaths, for example.  How much is spent on health and public education.  Be prepared though for how much is spent on illegal drugs or how many cigarettes are smoked every day.  Included is a link to the latest Coronavirus statistics as well. 
Mind blowing stuff.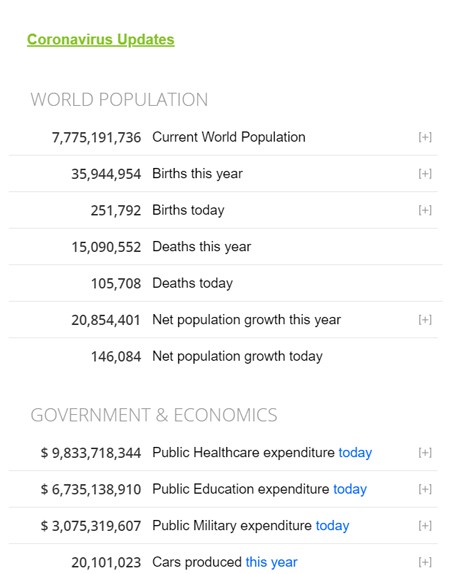 02 4961 7300
What our clients say about us
Grant Jackson is a fantastic operator that knows the Travel Industry inside and out. He is well supported up by his staff.

Thank you to Grant and the team for all of your help and guidance. We are always left feeling inspired after meeting with you. It's a pleasure to work alongside such a professional organisation. Keep up the good work!

Thank you for your help and wisdom when I REALLY needed it! You certainly helped me believe in myself and I now know that I can make a choice and be confident in it... so once again a big thank you. You gave me clarity and support.