Tax reform to feature heavily in PM's JobMaker plan
Tax reform to support jobs and encourage investment will be firmly on the government's agenda as it looks to unveil its JobMaker economic recovery plan.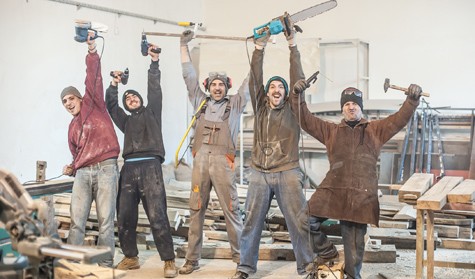 In an address to the National Press Club today, Prime Minister Scott Morrison revealed a broad overview of the JobMaker plan that would "secure Australia's future" over the next three to five years.
The JobMaker plan, aimed at rebooting the economy from a pandemic-induced slump, will be revealed in its entirety by the October federal budget.
"Skills, industrial relations, energy and resources, higher education, research and science, open banking, the digital economy, trade, manufacturing, infrastructure and regional development, deregulation and federation reform, a tax system to support jobs and investment," Mr Morrison said of the JobMaker agenda.
"I will address the many other components of our JobMaker plan in the weeks and months ahead, as we proceed to the budget in October. A process that is one of patiently putting each brick in the wall."
When pushed to expand on the government's view on tax reform, Mr Morrison hinted at changes to income tax.
"You ask someone for their opinion on tax, and they can give you volumes, but I'm interested in the stuff that's going to create jobs and create investment," Mr Morrison said.
"If we can agree some ways forward there, I suspect more of it is at the federal level — certainly on income tax.
"I don't mean specifically personal income tax. All those issues, I mean that's the mix. We know what the mix is.
"I'm not dropping bread crumbs there or anything like that, I'm just saying tax is big. It is a complicated issue. We will work our way through it."
Skills and industrial relations
Focusing on two initial areas of the JobMaker plan, Mr Morrison outlined plans to overhaul Australia's training system, including increasing funding and linking it to skills based on what businesses need.
Mr Morrison also vowed to simplify the system and make it more consistent between the states and territories, pointing to the national hospital agreement as a good model to work towards.
"Incorporating national efficient pricing and activity-based funding models would be a real step forward, and this is a system I've made very clear to Premiers and Chief Ministers that my government would be prepared to invest more in, but throwing more money into a bad system does not get you results," he said.
On industrial relations, Mr Morrison revealed that Attorney-General Christian Porter would lead a reform agenda for the industrial relations system, focusing on award simplification and revisiting enterprise agreement making.
"Our current system is not fit for purpose, especially given the scale of the jobs challenge that we now face as a nation," Mr Morrison said.
"The purpose is simple and honest, to explore and, hopefully, find a pathway to sensible, long-lasting reform with just one goal: make jobs."
Jotham Lian 
26 May 2020
accountantsdaily.com.au
02 4961 7300
What our clients say about us
Grant Jackson is a fantastic operator that knows the Travel Industry inside and out. He is well supported up by his staff.

Thank you to Grant and the team for all of your help and guidance. We are always left feeling inspired after meeting with you. It's a pleasure to work alongside such a professional organisation. Keep up the good work!

Thank you for your help and wisdom when I REALLY needed it! You certainly helped me believe in myself and I now know that I can make a choice and be confident in it... so once again a big thank you. You gave me clarity and support.